The Uncovery Devotional
Recovery is for everyone. (And if that statement bothers you, recovery is for you too.) A powerful companion to the original book, our all-new 365-day devotional invites you to completely rethink the way you do recovery, one day at a time. 
R

eal recovery isn't a process, nor is it a one-time event.

(And let's be honest—sometimes it takes more than twelve steps, thirty days, or even a year, or two, or twenty.)

Where traditional Christ-centered recovery programs leave you wanting more, co-authors George A. Wood and Brit Eaton help people who struggle with addiction, mental health problems, and suicidal thoughts heal from trauma.

How? Through a community-centered, Holy Spirit-led recovery framework that removes labels and honors the divine DNA in everyone.

Welcome to The Uncovery.
Uncovery Resources 
When it comes to Christ-centered recovery, we, the church, have work to do. 
Our legalistic, box-checking, one-size-fits-all programs produce astonishingly high failure rates, with 80 percent of people "failing out" in year one.
We can do better. We must. 
Get your hands on these individual and leader resources and help your community learn to do recovery differently.
Uncovered Conversations Video Series
Join unscripted, deeper-dive, chapter-by-chapter conversations between George A. Wood and Brit Eaton, authors of The Uncovery, and help bring reform in Christ-centered recovery in your community.
10 bonus videos for each chapter of The Uncovery book

Raw, vulnerable, real-life stories to help you better love and lead people in recovery

Practical strategies to lead reform in the Christ-centered recovery space
Buy Now for $24.99
Brian Simmons
Lead Translator, The Passion Translation 

"How I wish the church world would embrace and adopt all that is contained in this book. Read it and be changed!"
Brian "Head" Welch
Co-founder, Korn

"Thank you, George and Brit, for "killing the noise" and saying what needs to be said in the recovery space. The Uncovery will change the church as we know it."
Bill Johnson
Senior Leader, Bethel Redding

"With refreshing honesty, George Wood and Brit Eaton invite all of us to understand and participate in discovering God's original design for our lives."
Timothy McMahon King
Bestselling Author, Addiction Nation

"If you've been hurt by Christians in the past because of hypocrisy and judgment, I'd like you to meet George and Brit, who live their faith differently."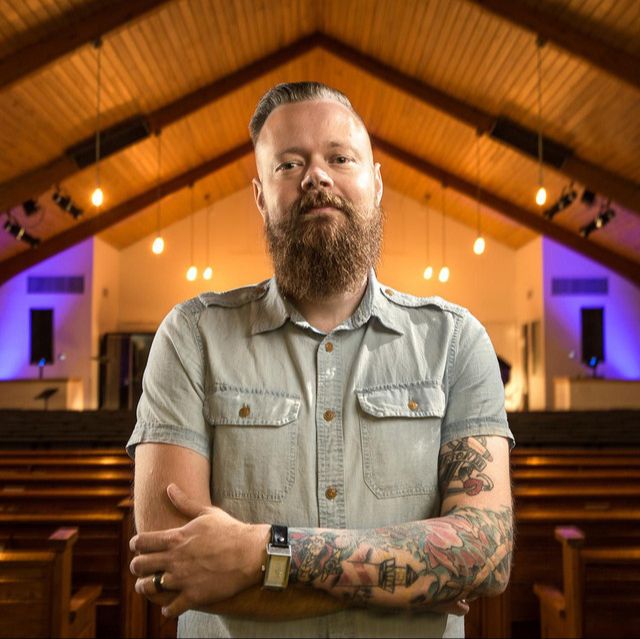 "Tommy" Preson Phillips
Musician and pastor, Watermark Church, Tampa

"No doubt, this book will be a daily guide for spiritual formation of many so desperately seeking it."
 Kristi Gaultiere
Co-founder, Soul Shepherding Institute
"Readers will discover a wealth of wisdom, deep insights, and scriptural truths that gently guide them towards a life of healing and wholeness."
George A. Wood is an ordained minister, pastoral care counselor, recovery ministry founder, and recovery activist. A former addict and suicide survivor, George has dedicated his life to radically grace-laced, Christ-centered recovery for people struggling with addictions, mental health problems, and suicidal thoughts. Through coaching and speaking, he helps people see recovery differently and build a new baseline for trauma-informed care.
Meet George
Brit Eaton is a writer, teacher, spiritual director, and all-around pursuer of the Kingdom of God. She helps corporate, nonprofit, and ministry leaders find the words to say to move people to action through coaching and consulting. An eager apostle and strong advocate for nontraditional recovery and women in ministry, Brit ministers in diverse, spirit-filled environments committed to unity in the Body of Christ. 
Meet Brit
Need 1-1 Recovery Coaching Support?
Coaching with George gives you access to 1-1 guidance, motivation, and accountability through a person-centered approach to real and lasting recovery. He offers support and helps clients,  families, and organizations develop customized plans for achieving and maintaining sobriety for themselves or the ones they love and lead.
Meet with George
Having trouble discerning God's call on your life? Not sure what to do or where to go next? Looking to grow personally, professionally, or spiritually? Good news: You don't have to go it alone. A coaching contract with Brit will get you unstuck and help you discover what God's saying to you and what you're going to do about it. 
Meet with Brit